Judge Kea Riggs sentenced Maroquez Clah to just over 3 years for the fatal DWI crash
Clah pleaded guilty to involuntary manslaughter without a plea deal
See the case write-up or read more stories about this case
ALBUQUERQUE, N.M. — Maroquez Clah, 28, of Red Rock, Ariz., received a sentence just over three years for killing Darrell Chavez, 22, in a 2019 drunk driving crash near Mitten Rock, after he pleaded guilty without a plea deal to involuntary manslaughter.
District Judge Kea Riggs ordered Clah,  serve three years on supervised release after he is released from prison when she sentenced him on Dec. 15, 2020, according to minutes from the hearing. He must also pay $4,500 in restitution.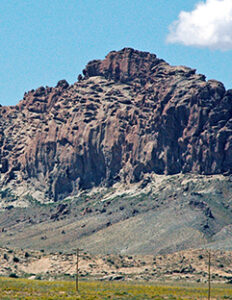 Chavez's father, Kinsey Chavez, addressed the judge through a Navajo interpreter, but what he said is not memorialized in the minutes. Clah also made a statement to the judge.
Riggs gave him two days to turn himself in to begin serving his sentence, according to the minutes.
What sentence Clah's attorney, Emily Carey, argued for, or what sentence federal prosecutor Novaline Wilson asked for, is unknown as the minutes do not memorialize either of their stances.
No sentencing memorandums appear in the court docket either, although the docket is missing eight entries between when Clah pleaded guilty (entry 37) and the entry of judgement (entry 52)in the case.
Improperly sealed documents appear to be a problem in New Mexico's federal court, as outlined by Jeff Proctor, writing in New Mexico In Depth. He found a pattern and practice by prosecutors and public defenders to improperly seal documents in federal criminal cases, contrary to local and federal rules on sealing procedures.
Clah had been on pre-trial release pending sentencing in Red Rock, Ariz., where he was taking care of his ailing parents during the pandemic. Magistrate Judge Paul Briones initially ordered Clah stay at a halfway house, despite his need for surgery, medical treatments and his ailing parents needing help. Wilson argued that Clah should have been held without bail indefinitely, over the objections of the probation officer assigned to the case.. Carey appealed Briones' order to Riggs, who ordered him released on April 20, 2020.
A federal grand jury indicted Clah on the involuntary manslaughter charge on Nov. 25, 2019. It was not entered into the federal court system until Dec. 3, 2019. Clah was not arrested until Feb. 14, 2020. His arrest warrant return was not entered into the online court system.
The crash
FBI Agent Lancy Roundy wrote in a search warrant filed for Clah's truck on Sept. 4, 2019, that Clah told federal investigators, while in the hospital, he had been drinking alcohol throughout the day prior to driving from Farmington to his home in Red Valley, Arizona. Chavez is referred to as "John Doe" in court records.
"Clah recalled John Doe being a passenger of his vehicle at some point during the drive," Roundy wrote. "Clah admitted to drinking vodka approximately six hours prior to driving his vehicle home and remembered losing control of the vehicle while driving approximately 70 miles per hour before the vehicle rolled several times."
Roundy wrote that, according to Clah's hospital records from his treatment after the crash, his blood-alcohol content was 0.258, over three times the legal limit of 0.08.
According to Chavez's autopsy report, he was not wearing a seatbelt and was ejected from the truck during the crash.
See the case write-up here or read more stories on this case. See the case documents on Google Drive or Document Cloud.
Previous stories
Arizona man pleads to involuntary manslaughter without deal in DWI killing
Judge releases Arizona man to family amid the coronavirus pandemic
Judge: Arizona man not allowed to take care of ailing parents during coronavirus pandemic
Maroquez Clah indicted for involuntary manslaughter in August 30, 2019 DWI crash