• Jagjeet Singh is charged with two counts of leaving the scene of an accident causing death
• SP Agent Larry Reuter said in court documents that Singh admitted to running over Jessica Ann Copey and her infant child on Jan. 19, 2021
• Magistrate Judge Virginia Yazzie released Singh on an unsecured $100,000 bond
See the case write-up
GALLUP, N.M. — State Police charged a 24-year-old man for the deaths of a 24-year-old woman and her infant child in an alleged Jan. 19, 2021 hit-and-run on Interstate 40, west of Gallup.
State Police Agent Larry Reuter charged Jagjeet Singh, of Indianapolis, on Jan. 20, 2021, with two counts of leaving the scene of an accident resulting in great bodily injury or death, one count of possession of a controlled substance: heroin, one count of possession of a controlled substance: methamphetamine and one count of possession of drug paraphernalia.
Singh is charged for allegedly killing Jessica Ann Copey, 24, of Tohlakai, and her unnamed infant.
Singh pleaded not guilty when he was initially arraigned on Jan. 21, on just the leaving the scene of an accident charges, and Gallup Magistrate Judge Virginia Yazzie released him on an unsecured $100,000 bond.
Reuter later filed an amended complaint, charging him with the drug offenses, and he is set to be arraigned a second time, with an interpreter, on Feb. 2. The case was reassigned, for unlisted reasons, to Los Alamos Magistrate Judge Pat Casados.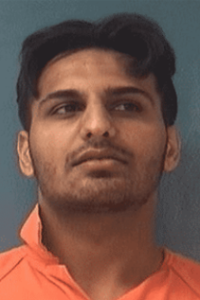 The case started on Jan. 19, 2021, around 9:30 p.m., when the McKinley County Sheriff's Office received a call about a woman walking east on I-40, around mile marker 15, west of Gallup. A "short time later," a State Police officer driving that way saw a large object, a shoe and debris from a vehicle in the road and in the median. A deputy then arrived and they both discovered, in the median, Copey's body and her infant, also dead, in a car seat, State Police Officer Dusty Francisco wrote in a press release.
Investigators "learned" that Copey was carrying her child in the car seat while walking in the left lane of I-40 when he was hit by a tractor-trailer, who did not stop. An attempt to locate the driver was broadcast to state and local law enforcement agencies. On Jan. 20, 2021, a day later, a McKinley County Sheriff's deputy located a tractor-trailer with heavy front-end damage parked at the Flying J's Truck Stop nears Jamestown, Francisco wrote.
In an amended statement of probable cause for Singh's arrest, State Police Agent Larry Reuter wrote that state police officers recovered a blue bumper and a headlight where Copey and the child were killed.
Reuter wrote that State Police arrives "arrived" at the truck stop and saw Singh's vehicle, which was missing the bumper and headlight, which matched those found on the interstate. Jagjeet Singh and his passenger, Gurcharan Singh, were "detained" and brought to the State Police office in Gallup.
Gurcharan Singh told Reuter that he received a call from Jagjeet Singh at 12:10 a.m., Jan. 20, that he hit a deer and he needed help to replace his headlight. Gurcharan Singh was headed west on I-40 and stopped at the gas station, Reuter wrote.
"Gurcharan told me he was not told anything about Jagjeet hitting a person," Reuter wrote.
Reuter wrote that he then interrogated Jagjeet Singh, after reading him his Miranda rights. Reuter made no mention of reading him his Miranda rights in any language other than English or that Jagjeet Singh had, or did not have, trouble understanding him.
In court documents, Jagjeet Singh indicated he needs a Punjabi interpreter. Miranda rights are supposed to be knowingly and intelligently waived.
Jagjeet Singh allegedly told Reuter he knew he hit someone who had long, white hair, Reuter wrote.
"Jagjeet confirmed he had observed the person walking from North side of the median and walking Southbound across the highway," Reuter wrote. "Jagjeet told me he took the exit at mile marker 16, stopped and looked in his mirror but could not see anyone in his mirror. Jagjeet never called the police and did not stop to look for the person he hit."
Jagjeet Singh allegedly told Reuter he called his cousin who asked why someone would be walking in the road and suggested he hit an animal instead. He drove to the truck stop, where he stayed until he was arrested, Reuter wrote. The cousin is not identified in court documents.
"Jagjeet drew a diagram of where his CVE was positioned when he struck the female," Reuter wrote. "Jagjeet could not give an answer why he did not call the police or attempt to render aid to the victims he hit."
When agents searched Jagjeet Singh's tractor-trailer, they found two bags of a brown powder-like substance weighing 34.8 grams and a white crystalline substance weighing 5.6 grams. The drugs were tested, and came back as heroin and methamphetamine although Reuter did not write what kind of test was conducted, by whom or the presumed accuracy.
Field drug tests "routinely" show false-positive results, according to ProPublica.
Do you have information about this case? NM Homicide needs your assistance to tell the stories of homicide victims. Please fill out this form.
See the case files on Document Cloud or Google Drive.
Suspect: Jagjeet Singh
Victim: Jessica Ann Copey, 24
Victim: Unnamed infant
Date of incident: Jan. 19, 2021
Charges: Two counts of leaving the scene of an accident resulting in great bodily injury or death, one count of possession of a controlled substance: heroin, one count of possession of a controlled substance: methamphetamine and one count of possession of drug paraphernalia
Status: Pending (magistrate court)
Investigating Agency: State Police
Investigator: Larry Reuter
Incident Location: Interstate 40 near mile marker 15, west of Gallup
Judicial District: 11th Judicial District
Prosecuting agency:  11th Judicial District Attorney's Office, Div. II
Prosecutor: Unknown
Defense attorney: Unknown
Magistrate case number: M-35-FR-2021-0021
District Case number: n/a