• The binding plea deal offered by prosecutor David Cowen mandated a sentence of 15 years
• Zacharian Joe stabbed cousin Brett Micah Morgan to death as he begged him to stop
See the full case summary or past stories on the case
ALBUQUERQUE, N.M. — A federal district court judge sentenced Zachariah Joe to 15 years in prison for fatally stabbing his cousin in Shiprock, after accepting a binding plea agreement.
District Judge James Browning sentenced Joe on Jan. 14, 2021, to 15 years followed by supervised release for three years, according to a sentencing minutes sheet filed eight days after the hearing.
The minutes do not state if anyone spoke at the hearing.
Joe admitted to stabbing his cousin, Brett Micah Morgan, 10 times, although court documents indicate he also kicked him after repeatedly stabbing him. Morgan begged him to stop as Joe stabbed him, according to court documents.
Joe owes $6,546 to his cousin's family, according to the judgement filed in the case.
He pleaded guilty on Oct. 31, 2019, to a criminal information charging him with second-degree murder for Brett Micah Morgan's death, offered by federal prosecutor David Cowen. Joe admitted to stabbing Morgan 10 times in the chest and neck.
Multiple family members wrote letters to the judge encouraging him to accept the plea.
On Jan. 3, 2019, Joe showed up at a house where Morgan, 32, and another man, identified by the initials B.M., were hanging out. Joe had just been fired from Burger King in Shiprock, Federal Bureau of Investigations Agent Lance Roundy wrote in an affidavit for a criminal complaint for the arrest of Joe.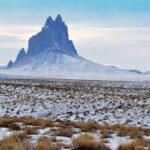 Joe hit Morgan in the face with the back of his hand, then tried to attack Morgan, on the ground, but B.M. wrestled him to the ground. Morgan and B.M. got out of the house and Joe could be heard searching through kitchen drawers and cabinets. B.M. ran to Joe's house and broke a window. While he was gone, Joe had stabbed Morgan 10 times, Roundy wrote.
Joe admitted in the plea deal to stabbing Morgan as he begged him to stop.
Another witness, D.T., told Roundy that he saw Joe kicking an unresponsive Morgan, after he had been stabbed, Roundy wrote.
See the full case summary, as well as a more complete narrative of the killing. Read the affidavit for a criminal complaint written by FBI Agent Lance Roundy. See all the documents on Google Drive or Document Cloud view the case and documents on Court Listener.
Do you have information about this case? NM Homicide needs your assistance to tell the stories of homicide victims. Please fill out this form.