• Tavor Tom faced a maximum sentence of life
• Prosecutor Joseph Spindle asked for 17.5 and his defense attorney asked for 7 years
• Tom stabbed his aunt, Roberta Clyde, 75 times at her Shiprock home
See the case write-up or read previous stories on the case
SHIPROCK, N.M. — A federal judge sentenced Tavor Tom, 20, to 15 years in federal prison, April 7, for stabbing his aunt to death at her Shiprock home in 2019.
Judge William Johnson sentenced during a virtual hearing. Tom, of Shiprock, pleaded guilty to second-degree murder on Nov. 24, 2020 for stabbing to death his aunt, Roberta Clyde, 45, and there was no agreement to the sentence.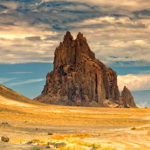 Federal probation officers calculated Tom's suggested sentence at 14 to 17.5 years. His attorney, James Loonam, asked for half of that, seven years, while prosecutor Joseph Spindle asked for the maximum under the guidelines, 17.5 years.
Tom appeared via video for the sentencing hearing and family members appeared via Zoom and one of them addressed the court, according to minutes from the hearing.
The minutes do not say who spoke or what was said. At the hearing, Spindle argued for 17.5 years and Loonam argued for seven years.
Tom must also pay $4,077 in restitution to Erik Benally, $11,522 to State Farm and $6,000 to the New Mexico Crime Victim's Reparation Commission.
According to court records, after stabbing Clyde to death on July 1, 2019, Tom stole her Jeep Cherokee, eventually crashing it into a fence in front of a church in Nenahnezad.
Navajo Nation police officers found a bloody knife in the car, FBI Agent Cary Cahoon wrote in an affidavit for an arrest warrant.
During an interrogation, Tom told FBI agents he killed his maternal aunt with a folding knife he took from his father's vehicle. He intended to go to her house to steal her car so he could drive it to Farmington to steal Mucinex. After he stole it from the store, he drove on the back roads toward Shiprock and he crashed the vehicle into the fence. He was found in it the next morning, Cahoon wrote.
In the plea agreement, Tom wrote that he stabbed his aunt repeatedly with a knife, "intentionally and without justification."
When interrogated by FBI agents, he said he stabbed her repeatedly and slit her throat, according to court documents.
For more details on the crash, see the case write-up.
See the case on CourtListener.com or read the documents on Google Drive or Document Cloud
Continue reading "Tavor Tom sentenced to 15 years for stabbing aunt to death" →