Maroquez Clah wants to be released from an Albuquerque halfway house to his parents' home in Red Valley, Ariz., because of the coronavirus and his parents' health
Federal magistrate Judge Paul Briones wrote Clah poses too much of a risk to the community because of one prior drunk driving conviction
Prosecutor Novaline Wilson opposed Clah's request in what could be an improperly sealed opposition 
See the case write-up or read more stories about this case
ALBUQUERQUE, N.M. — Despite approval from pretrial services officers, the looming threat of the coronavirus pandemic and a father slipping into dementia, a federal magistrate judge on April 1 refused to let a Red Valley, Ariz. man return home to help his elderly parents, relying on what appears to be an improperly sealed filing by a U.S. Attorney's Office prosecutor, and he is appealing the decision.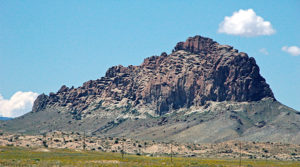 Maroquez Clah is charged with involuntary manslaughter for allegedly crashing his truck while drunk, which killed a passenger identified as D.C. (YOB: 1997), on Aug. 30, 2019, near Mitten Rock, New Mexico. A grand jury indicted him on Nov. 25, 2019 but he was not arrested until Feb. 14, 2020. According to the federal docket sheet, Clah was released to a halfway house in Albuquerque on Feb. 20, 2020, after he was arraigned by federal Magistrate Judge Paul Briones.
On April 1, Briones denied Clah's request to move from a halfway house in Albuquerque to his parents' home in Red Valley, filed March 23. Briones did not have a hearing and instead relied on the emergency motion filed by Clah's attorney, Emily Carey, and the opposition filed under seal by prosecutor Novaline Wilson. However, Wilson's filing under seal appears to be against court rules on sealing documents, which require a judge's consent and are only supposed to be done for very good reasons.
According to the local rules and federal court rules, documents are only supposed to be filed under seal for good reason and a record of the motion to file a document under seal is supposed to appear on the court docket, as outlined by Jeff Proctor in New Mexico In Depth.
Carey filed an appeal of Briones' order on April 6, but no further documents or hearings have been docketed in the case.
She wrote in the initial motion that Briones, during the arraignment, said if Clah "performed well" at the halfway house, he would consider "possible modification" the conditions of his release. The current conditions restrict his travel to Bernalillo county. The minutes contain no details of what was said.
Wilson opposed Clah's release pending trial during the arraignment, while pretrial officers suggested release, according to the minutes.
Carey wrote that Clah's father is on dialysis and his health has recently declined and his mother, Bessie Begay, contacted her to say that his father has "developed something akin to dementia."
Before being arrested, Clah "took on all of the household tasks and helped his mother with his father's health care." He also took care of his 4-year-old daughter, who is now in Begay's custody, she wrote.
Clah's doctors are also in Shiprock and Farmington, closer to Red Valley than to Albuquerque. If he were allowed to return to Red Valley, he could also continue his work at Yazzie Oil Field Service. Allowing him to move back in with his parents would remove him from a communal living situation and possible infection by the coronavirus, Carey wrote.
Federal pretrial services in Arizona conducted a home assessment and said it would take responsibility for Clah's supervision, she wrote.
According to Carey's reply to Wilson's sealed opposition, Clah has one prior tribal conviction for drunk driving in 2018. He was sentenced to 90 days supervised probation, which he completed.
That prior DWI conviction appears to be the basis of Wilson's opposition to Clah taking care of his elderly father, helping his mother and parenting his child. Wilson also argues, according to Carey, that the global pandemic is not a "changed circumstance." However, because Wilson appears to have improperly sealed her opposition, it is not clear if she had any more arguments.
Carey wrote:
"At this point, concerns pertaining to COVID-19 and the risk of communal living are not merely speculative. Moreover, even if he was required to present evidence of changed circumstances, Mr. Clah submits that he has met his burden given his exemplary conduct while on pretrial release, the deterioration in his father's physical and mental health, the inability to access medical providers including his surgeon for urgent follow up care, and concerns for his own health and the health of his family because of COVID-19."
Briones denied Carey's motion because his "pattern of prior conduct" and that Carey didn't show that there are "sufficient safeguards" to protect the community from the risk of Clah drinking and driving, if he isn't living at the halfway house.
In Carey's April 6 appeal, she wrote that Clah's father has repeatedly fallen, following his descent in what appears to be dementia, and has been admitted to the hospital on suspicion of internal bleeding. Begay cannot stay with her husband at the hospital because of the risk of the coronavirus.
Clah would not have access to a car while living with his parents. His mother has a vehicle, but it's provided by her work, she wrote.
Carey wrote:
"Mr. Clah's physical movements are restricted by his own physical injuries for which he requires ongoing treatment. Moreover, at present, the entire Navajo Nation has imposed a curfew from 8:00 p.m. to 5:00 a.m., which is enforced by law enforcement personnel issuing citations and roadblocks. However, should the Court be concerned with Mr. Clah's movement, he would be willing to submit to electronic monitoring under home detention or any other condition the court deems appropriate."
Clah's pretrial officer is still supports his request to move back to Red Valley, she wrote.
Whenever Clah speaks to his daughter on the phone, "she often cries and begs for him," Carey wrote. "He is extremely concerned about the effect this separation is having on her, and worried about the burden his absence is putting on his mother."
Begay also wrote a letter to the court.
The incident
A federal search warrant filed for Clah's truck on Sept. 4, 2019, by Federal Bureau of Investigations Agent Lancy Roundy, gives a few details on the crash.
Clah told federal investigators, while in the hospital, he had been drinking alcohol throughout the day prior to driving from Farmington to his home in Red Valley, Arizona, in a 2007 Ford F-150 truck, Roundy wrote.
The man killed is only referred to as D.C. His year of birth is 1997.
"Clah recalled John Doe being a passenger of his vehicle at some point during the drive," Roundy wrote. "Clah admitted to drinking vodka approximately six hours prior to driving his vehicle home and remembered losing control of the vehicle while driving approximately 70 miles per hour before the vehicle rolled several times."
According to Clah's hospital records from his treatment after the crash, his blood-alcohol content was 0.258, over three times the legal limit of 0.08.
It is not clear how the agents obtained the medical records. The only unsealed search warrant for the case, between the time of the crash and Sept. 4, 2019, is Roundy's.
Clah suffered a broken leg and "other injuries," Roundy wrote.
Roundy wrote he wanted to search the truck for physical evidence of alcohol consumption, including bottles, receipts and cans, as well as take pictures of the truck.
Do you have information about this case? NM Homicide needs your assistance to tell the stories of homicide victims. Please fill out this form.
See stories on the case here or see the case documents on Google Drive or Document Cloud
See the case write-up here