See the case write-up or read more stories about this case
Update: The sentencing time has been updated to 10:30 a.m.
ALBUQUERQUE, N.M. — An Arizona man, who pleaded guilty to involuntary manslaughter for killing his friend in a 2019 drunk driving crash, is set to be sentenced remotely at 10:30 a.m., Dec. 15, 2020.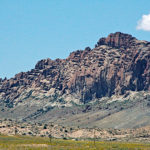 District Judge Kea Riggs is set to sentence Maroquez Clah, 28, of Red Valley, for the DWI crash that killed Darrell Chavez, 22, near Mitten Rock, according to the docket. Clah previously pleaded guilty without a plea agreement in front of Magistrate Judge John Robbenhaar. The maximum sentence for involuntary manslaughter is eight years.
Riggs previously ordered Clah released to his parents' home in Red Valley, Ariz., after Magistrate Judge Paul Briones refused to release him, despite his medical needs.
The sentencing hearing will be conducted remotely and is assigned to the Bonito courtroom, numbered 540, according to the docket.
A federal grand jury indicted Clah on a charge of involuntary manslaughter on Nov. 25, 2019 for crashing his truck while drunk near Mitten Rock, killing Chavez. He was not arrested until Feb. 14, 2020.
Do you have information about this case? NM Homicide needs your assistance to tell the stories of homicide victims. Please fill out this form.
See the case documents on Google Drive or Document Cloud
Previous stories
Arizona man pleads to involuntary manslaughter without deal in DWI killing