• Raylan Reano is back in jail after he allegedly refused to report to a halfway house and was arrested by Zuni tribal police
• He received a two-year sentence for killing his girlfriend in a drunk-driving crash
See the case write-up or previous stories
ALBUQUERQUE, N.M. — Five months after being sent to jail as a sanction for violating his supervised release and a month after being released, Raylan Reano is back in jail after he allegedly failed to report to a halfway house and was arrested by Zuni tribal police.
Reano, 27, of Zuni, was arrested on Oct. 28, 2020. The next day, federal Magistrate Judge Paul Briones ordered Reano held without bail during the release revocation. During the hearing, Reano waived his right to both a preliminary hearing and a detention hearing. Briones found that Reano is a danger to the community and there was a serious risk he would not appear for his next hearing.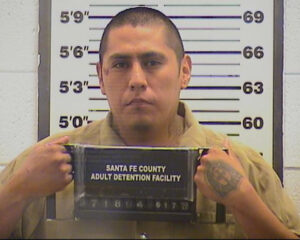 Although court documents do not explicitly state when he was released after serving five months in jail, federal probation officer Christopher Fielder filed a petition to revoke Reano's release on Sept. 11, 2020, after he confirmed, the previous day, that Reano did not go to the halfway house he had been ordered to for the first six months of his supervised release. He listed the sentence revocation range as three to nine months.
On Oct. 5, Fielder filed an amended petition to revoke Reano's supervised release. Zuni tribal police arrested Reano on Sept. 30 for resisting arrest, intoxication, criminal mischief and drug abuse. He pleaded guilty on Oct 1, 2020, Fielder wrote.
On Oct. 28, Reano was arrested, according to the docket, although it is not clear if he was already in tribal custody.
A final revocation hearing is set for 2 p.m., Dec. 4, 2020, via Zoom.
Reano, 27, killed his girlfriend, Nicky Chavez, 26, in a drunk driving crash on Oct. 23, 2016. Federal District Judge James Parker sentenced him to two years, followed by three years of supervised release, after previously pleaded guilty to involuntary manslaughter, a sentence served at the same time as multiple tribal sentences.
Case timeline
According to federal court documents, Reano has repeatedly refused to comply with court instructions and ignored orders to spend the first six months of his release in a halfway house. To read more about the crash, the plea, or the arguments over sentencing, read the case write-up.
The case
According court documents and an autopsy report, on Oct. 23, 2016, Reano, with a blood-alcohol content of 0.365, drove off State Road 53, overcorrected and flipped, ejecting Chavez, killing her.
According to a response to a sentencing memorandum by prosecutor Sarah Mease, witnesses said Reano was driving recklessly and at a "high rate of speed" when he lost control of his car and it rolled. He had a blood-alcohol content level, or BAC, of 0.365, over four times the legal limit of 0.08, and in the area of possible alcohol poisoning, which Mease described as "shockingly high."
See the case documents on Google Drive or Document Cloud.
See the case write-up or previous stories
Suspect: Raylan Reano
Victim: Nicky Chavez, 26
Charges: Involuntary manslaughter
Sentence: 2 years prison followed by 3 years supervised release
Status: Pending final supervised release revocation hearing
Date of incident: Oct. 23, 2016
Investigative agencies: Zuni Police Department
Prosecutor: Sarah Mease
Prosecuting agency: U.S. Attorney's Office
Location: State Road 53 in Ramah, exterior boundaries of the Zuni Pueblo
County: McKinley County
Type: DWI crash
Relation to victim: Boyfriend
Federal Magistrate case number: None
Federal District case number: 17-cr-03403