Update: Sentencing has been tentatively moved to June 25, 2021.
• A judge moved Allister Quintana's sentencing to Feb. 1, 2021
• The defense's psychological evaluation should be complete by mid-November
• A defense sentencing memorandum is due by Dec. 15
See the case write-up or previous stories on this case
DULCE, N.M. — A judge moved Allister Quintana's sentencing to February after he pleaded guilty in January 2020 to second-degree murder for torturing his cousin at his Dulce home and leaving him to die in a locked closet.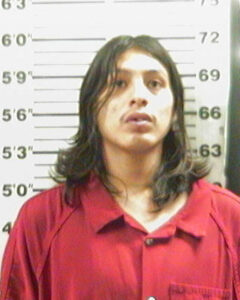 Quintana's lawyer, Ray Twohig, wrote in a Nov. 11, 2020 motion to extend the deadlines in the case that he was still missing an evaluation from Christine Johnson, a forensic psychologist who has been unable to personally meet with Quintana at the McKinley County Detention Center, where he is being held.
Johnson's trouble completing an evaluation of Quintana have been the subject of multiple motions to push off sentencing.
The report was supposed to be completed by Nov. 16, 2020. Twohig should have his sentencing memorandum completed by Dec. 15, 2020, which gives prosecutors until Dec. 29, 2020 to respond.
Although Twohig wrote that Johnson will have the evaluation done by November, she previously "assured" him it would be done by Oct. 14, 2020, according to a previous motion to extend deadlines.
District Court Judge William Johnson granted the extension and set sentencing for 10 a.m., Feb. 1, 2021. Sentencing had previously been set for Jan. 5, 2021. Johnson accepted Twohig's suggested deadlines for his memorandum and the prosecution's response.
Prosecutor Joseph Spindle previously asked for a life sentence for Quintana in his own sentencing memorandum, on April 2, 2020.
Quintana, 26, pleaded guilty to a criminal information charging him with second-degree murder on Jan. 22, 2020. His codefendant, Andrew Bettelyoun, 25, previously pleaded guilty to conspiracy to commit kidnapping a year prior, on Jan. 30, 2019.
Quintana and Bettelyoun admitted to torturing Travis Howland, 28, before binding his hands and feet and leaving him, naked, in a closet to die on Feb. 2, 2018 in Quintana's house, according to court records.
More details on what prosecutors say happened to Howland are in the case write-up.
Although Bettelyoun was supposed to be sentenced in May 2019, court records do not indicate that he was ever sentenced. In his memorandum seeking a life sentence for Quintana, Spindle wrote that Bettelyoun is, under the current sentencing guidelines, slated to receive a harsher sentence than Quintana even though Quintana committed far more egregious acts.
Do you have information about this case? NM Homicide needs your assistance. Please fill out this form or contact us.
See all the documents for Allister Quintana or Andrew Bettelyoun on Google Drive. View the case files of Allister Quintana or Andrew Bettelyoun on Document Cloud.
Allister Quintana
Charges: First-degree murder, kidnapping resulting in death and conspiracy to commit kidnapping
Status: Plea to second-degree murder, sentencing pending
Relationship to victim: Cousin
Federal magistrate case number: 18-mj-01776
Federal district case number: 18-cr-03989
Andrew Bettelyoun
Charges: Murder, conspiracy to commit murder and kidnapping
Status: Plea to conspiracy to commit kidnapping; sentencing pending
Relationship to victim: Cousin
Federal magistrate case number: 18-mj-03427
Federal district case number: 19-cr-00216